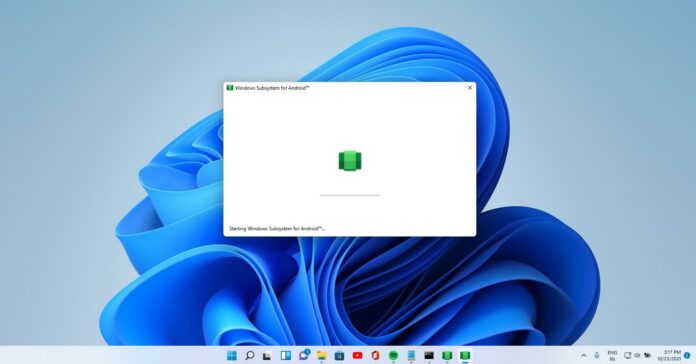 Earlier this year, Windows 11 received much-awaited Android app support for those with supported hardware. As you may recall, the ability to run Android apps is officially provided by the Amazon App Store. It's currently in testing for users in the US, and only certain machines that meet the system requirements can benefit from it.
If you're outside the US, you can still use Windows 11's underlying Android subsystem engine, which is managed through the Microsoft Store, to sideload and run mobile apps on the desktop. Now at least we can see that Microsoft is actively working on the project and a new update is rolling out with some new features.
A new update brings the version of Windows Subsystem for Android to 2204.40000.15.0 and includes several major improvements. As part of the new release, Microsoft is updating the underlying engine to Android 12.1. In other words, Windows 11 can now benefit from the latest Google technologies.
You won't immediately notice the changes after upgrading to Android 12.1 and more details will be released a bit later. However, this change may cause some apps to crash on launch and Microsoft is working on a fix.
In the new Windows Subsystem for Android, Microsoft has disabled telemetry collection by default. This option can be found as an "optional diagnostic data" toggle in the Windows Subsystem for Android Settings app and users can enable it to voluntarily provide useful telemetry on app usage.
A new networking experience
Microsoft introduces a new network experience for the Android system that lets you easily connect Android apps to devices on the same network as your desktop.
As a result, it is now possible to broadcast your favorite content on a speaker on the same network. Similarly, you can use an Android Smart Home app and set up a security camera through Windows.
Redesigned Settings Page
Microsoft has redesigned the app that lets you manage Android subsystem settings.
The settings page now uses a new grouped navigation and has been completely redesigned.
The update also added a diagnostic data viewer that allows you to monitor diagnostic data collected by the subsystem. You can use it to force apps not to be resizable or enable swipes for arrow keys.
Windows 11 integration
Microsoft is improving the integration between Android apps and Windows 11. For example, taskbar icons can now show apps that use the microphone, location, and other system services in the system tray.
Similarly, if you use Windows 11's auto-hide taskbar, you'll notice that Android apps now hide/show properly. There's another change that ensures Android toasts are reflected as Windows notifications on Windows 11, and the Android activity title is also highlighted by the app window.
Here is a list of other new features and improvements:
This update prevents Android apps from restarting when your desktop exits Connected Standby.
Microsoft improves camera integration in Android apps. Camera orientation has been updated to match natural orientation, and Microsoft has also fixed camera preview issues, including a bug where the company fixed the letterbox and crashing of the camera stream.
Microsoft improves mouse and keyboard support. You'll notice the scroll wheel scrolling has been improved, and Microsoft has also fixed issues with on-screen keyboard focus and Android's built-in software keyboard.
Simpleperf CPU profiler logging now works in WSA.
New video hardware decoding (VP8 and VP9).
It now uses Chromium WebView 100 for Android apps.
Improved general stability, performance and reliability
Microsoft reminds us that these new features are being driven by the Windows Subsystem for Android and the update is live for Dev Channel users only, which should open to the general public soon.