The investigators arrived at this figure after examining how legalization between 1996 and 2019 influenced the stock returns of listed generic and branded pharmaceutical companies.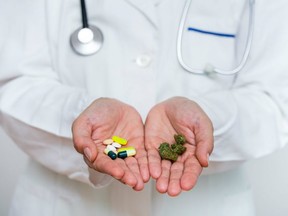 Content of the article
A U.S. study exploring the legalization of cannabis and its influence on pharmaceutical manufacturers suggests that investors expect a single legalization event to reduce drugmakers' annual sales by an average of US$3 billion ($3.9 billion). of dollars).
Content of the article
Using a data set and estimation approach, investigators from California Polytechnic State University and the University of New Mexico arrived at this figure after examining how legalization between 1996 and 2019 influenced stock market returns. listed generic and branded pharmaceutical companies.
Content of the article
The study's primary sample involved daily stock performance data from 556 companies, including 520 classified as pharmaceutical preparations or pharmaceutical entities, notes a research paper published Aug. 31 by the open-access, peer-reviewed journal. reading. PLOS One. A subsample of 91 companies included 16 brand name drug manufacturers and 75 generic drug manufacturers.
B.C. cannabis users using legal sources on the rise, survey finds

Nature is the world's original pharmacy – returning to medicine's roots could help fill drug discovery gaps

One of the greatest players in rugby league history uses medical cannabis to get back on his feet
Content of the article
In general, the average market value of a company in the main sample is US$8.9 billion ($11.7 billion) and in the subsample, "generic companies tend to be a lot smaller than branded companies".
Investigators found that business returns were on average 1.5-2% lower 10 days after legalization in one US state.
Calling the difference statistically significant and noting that it persists for 20 business days following the event, the researchers state that "this corresponds to a loss of approximately $133-177 million ($174-232 million) per company". They explain that the number is calculated by multiplying the cumulative value of abnormal returns, namely the 1.5-2%, by the average market value.
Content of the article
Are Cannabis Consumers Abandoning Pharmaceuticals?
The researchers suggest that the legalization of weed by US states "likely increases the use of cannabis as an alternative to conventional pharmaceutical drugs."
Support has been offered for such an approach, according to a number of different studies over the past few years.
In 2019, a review of 450 adults who identified as current cannabis users in the United States showed that 44% of medical marijuana users stopped taking a pharmaceutical drug, or used less of it, or two, in favor of cannabis.
"In general, people use medical marijuana to treat pain, back problems, depression, and headaches," reports the University of Michigan.
Cannabis is also used, both anecdotally and in research studies, to treat mental health issues and symptoms.
Content of the article
In the spring of 2022, researchers from Calgary's Harvest Medicine reported that their findings supported the idea that the use of medical cannabis could help treat anxiety and depression. Based on information from 7,362 patients, investigators cited improved outcomes after starting treatment and at one-year follow-up.
A survey of American adults, the results of which were released last June, shows that three-quarters of survey participants would prefer holistic solutions and 62% would choose weed over pharmaceuticals to treat medical problems. . The survey was conducted by The Harris Poll on behalf of cannabis consumer product supplier Curaleaf Holdings, Inc., and involved nearly 2,000 American adults ages 21 and older.
Content of the article
Despite the support, however, researchers at Washington State University reported in late 2021 that cannabis users who also used other drugs to treat various conditions could reduce the effectiveness of those drugs.
Investigators have found that the positive effects of treatment medications taken may decrease or their negative effects may increase, notes an academic statement, explaining that certain cannabinoids and cannabis metabolites appear to "interfere with two families of enzymes that help to metabolize a wide range of drugs prescribed for a variety of conditions.
Medical Marijuana Has a Longer-Term Influence on Pharma Yields
Regarding the recently released study, the investigators write "when we break down investor responses to medical and recreational legalization, we find that a large portion of the average is driven by medical legalization events."
Content of the article
While cannabis legalization, overall, is associated with reduced stock market returns for pharmaceutical companies, "medical legalization generates a more moderate effect on cumulative returns than recreational legalization, but is more persistent. Generic companies are more affected in terms of percentage, while branded companies are more affected in terms of magnitude due to their higher market value.
"We find that the average change in a company's market value per legalization event is US$63 million," the investigators write. They further point out that when all businesses are included, the economic significance of an "estimated US$9.8 billion loss in market value between businesses per cannabis legalization event is extremely large."
Content of the article
According Marijuana Timebrand-name drugmakers see the difference in their returns disappear within days of the event, but for generic drugmakers, the investor response to cannabis reform "is more significant and persistent."
Even so, the authors add that the results should be interpreted with caution. "A key limitation is that we model investors as rational, which may exaggerate the economic significance of our results," the paper reads, also noting that the researchers "are limited to publicly traded companies and events of legalization".
For patients, "cannabis may function as a drug outside of the pharmaceutical market for the foreseeable future, which may limit patients' ability to pay for cannabis treatment through employer health insurance programs," write the authors.
"Yet, despite the likely increase in out-of-pocket expenses, our work and that of others suggests that many patients are switching from pharmaceutical drugs to cannabis after legalization," they add.
To subscribe to weekend dispensarya new weekly newsletter from The GrowthOp.